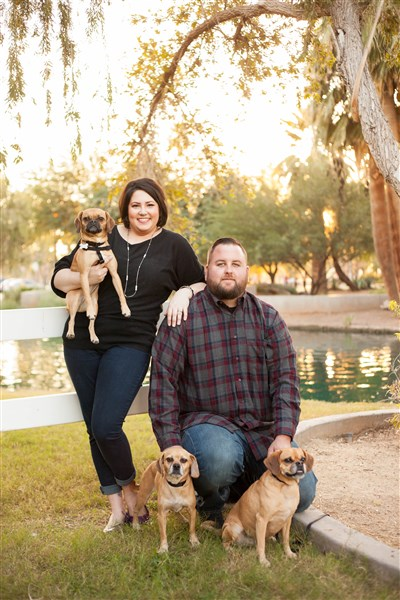 By Brooke Kingston
My husband and I met at a baby shower in 2008. You read that correctly: a baby shower. He's 6'5", heavily tattooed and handsome, so of course I noticed him, but I didn't know until after the shower that he'd noticed me. We went on our first date 3 weeks later and were engaged in six months. When we got married in October 2009, we agreed that we would wait a year before trying for a baby. That changed about six months in. I read Taking Charge of Your Fertility, bought a basal thermometer, ditched the birth control and started charting. 
Thanks to having read about fertility, I didn't expect it to happen the first month or even the first few months. I knew the chance of spontaneous conception is lower than we're all led to believe. But then six months passed. And then 9. And then we got to 12 months with no luck. I made an appointment with my OB/GYN and brought my charts and asked for her to order standard testing.
On June 29, 2011, the day after my 30th birthday, we learned the more severe cause of our joint infertility. I've never publicly shared our diagnosis, because as we see it, WE are infertile. We spent many hours leading up to the consultation with our reproductive endocrinologist talking about what we would and would not be up for in regard to treatment: how many IUIs, would we do IVF, were we open to donor gametes, did we feel called to adopt? Ultimately, we decided that our financial situation and risk-averse nature meant that 3-6 rounds of IUI would be the line in the sand.
At our consultation with the reproductive endocrinologist, we learned that our estimated chance of spontaneous conception was between 1 and 2%. Not per cycle, but ever. It was devastating. We were given some options and suggestions to improve my eggs and his sperm to attempt IUI, but realistically, we were looking at needing IVF to achieve a pregnancy. We took a few months, did research, made lifestyle changes, and retested. There was no significant change, IUI was still not a very worthwhile or realistic endeavor, and our line in the sand was still firm.
We agreed that if we panicked or regretted the decision before I turned 35, we would revisit.
During this time, I also read a lot of books on infertility and outcomes, including Sweet Grapes by Jean and Michael Carter, a couple who had chosen a childfree lifestyle as their resolution to infertility. It addressed a lot of the questions and fears I had about not pursuing a birth or adoption. Living a childfree lifestyle became an option that we talked about and began to be comfortable with. It's not that there wasn't grief – there definitely was – but ultimately, we felt like we were making the best decision together, as a family, to walk away from trying to conceive. We agreed that if we panicked or regretted the decision before I turned 35, we would revisit. There were some talks in those few years, but we always came back to the same decision. I celebrated the weekend before my 35th birthday by bringing my best friend – a woman I met through infertility message boards – to Arizona for moral support.
Deciding to live life as a family of two is not without grief (for me, The Box & The Ball analogy is accurate) , but it has also brought us many opportunities. I was able to really launch my career, participate in volunteering and advocacy for access to affordable infertility care and family-building options, and have the bandwidth to be the Cool Aunt to our three nephews. It also literally led to my current job here at MedAnswers and the opportunity to tell you my story here.
People often look at walking away from an infertility experience without a child as the worst-case scenario. We're the outcome people don't want to talk about, or even acknowledge as possible. I'm here to tell you that it's also possible to choose a childfree resolution and find peace in that decision. I still have hard days. The holidays can be rough. Father-daughter dances are particularly triggering. But we both agree, 8 years later, that our choice was the right one for us.