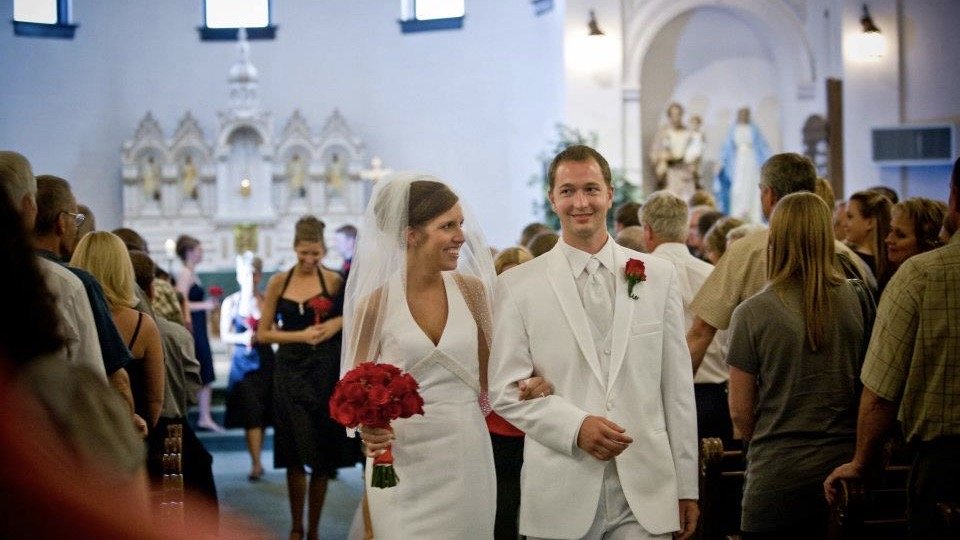 By Shelley Skuster
We broke tradition by not having cake at our wedding reception.
I should've known then that my husband and I would continue to break the mold of what people viewed as "traditional" or "normal."
A little more than a year after I walked down the aisle in a satin sheath gown toward my husband who was waiting for me at the end of the alter in a white tuxedo in front of hundreds of our family and friends, we found ourselves walking down a different road; one less traveled, a bit bumpier than we would've liked, and a heck of a lot more scary.
We were on the road of infertility.
After months of expensive, invasive infertility treatments and no pregnancies, our reproductive endocrinologist invited us into her office.
She sat behind her desk with stacks of papers and test results sprawled across it like a puzzle with pieces that couldn't quite fit together.
My husband's knee bounced nervously, and I clenched his hand in my lap.
Our reproductive endocrinologist shuffled the papers into a pile, slid them into a tan folder and closed it. Then she peered up through her thick-rimmed glasses and looked me straight in the eyes.
"I don't know why we can't get you pregnant," she said.
I'm not entirely sure what any of us said or did after that. What I am sure of, though, is that my world stopped spinning right then and there in that office.
As we walked to the elevator and the metal doors rolled shut, I slunk into my husband's arms and cried a cry I didn't even know I was capable of. This was the moment we truly began grieving the hopes and dreams we had for our family.
It took us a long time – years, actually – to process what it meant for us to not have biological kids. Grief and anger would come in waves (in fact, they still do).
While I felt like my body was broken and that it betrayed me, I never lost the desire to become a mom, and I never lost the dream of seeing my husband as a dad.
It was years after our last walk through the infertility clinic when I remember sitting in our living room. Snow was falling outside. Our dog was curled up on my lap, and I looked over at my husband and asked, "What do you think about adopting?"
We both agreed that becoming parents was far more important than me ever becoming pregnant.
We cautiously jumped into the adoption process that day (and when I say cautiously, I mean we were all-in, head-first, baptism-by-fire). We completed our home study paperwork, background checks and began raising money to afford the process while compiling a list of ethical adoption agencies to apply to.
Six months after having that initial conversation in our living room – the conversation where we committed to growing our family through adoption – we found ourselves hopping a last-minute flight from Iowa to Texas to meet our newborn daughter.
A little more than a year later and with 12-hours' notice, we drove three hours through an Iowa snowstorm where our second daughter was lovingly placed into our arms.
And as the universe would have it, we got pregnant shortly after adopting her; then we got pregnant again. (Yes, if you're doing the math, that's four babies in four years.)
Life these days is chaotic and crazy and wonderful and loud; all four of our children came to my husband and me in such special and unique ways.
And even though we broke "tradition" by growing our family a less "traditional" route, our family's journey sure has turned out beautiful.
Shelley Skuster is the writer behind ShelleySkuster.com. She's an award-winning television news reporter who — after years of infertility, two adoptions and two pregnancies — traded in suit coats and red lipstick for a messy bun and yoga pants when she decided to stay at home and focus on raising her four young children. When she's not changing diapers, cutting crusts off PBJs and breaking up squabbles over a yellow mega block, she's hunched over her laptop in Des Moines, Iowa, cranking out stories and enjoying a (usually cold) cup of strong coffee. Shelley writes and speaks about infertility, adoption and motherhood. You can find her on Instagram , Twitter and Facebook