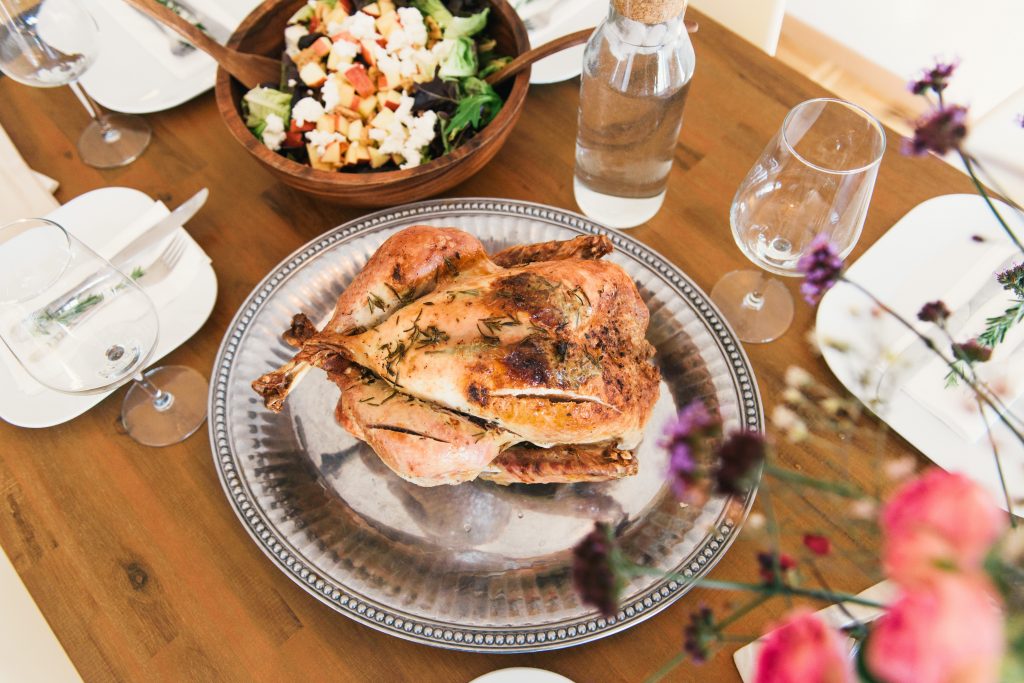 By Jennifer 'Jay' Palumbo
Ah, Thanksgiving. The one time a year where it's a guaranteed sit-down family meal with turkey, stuffing and a side of, "So, why don't you have kids yet?" While we at MedAnswers support questions, these are the kind of questions that can ruin a holiday, let alone your well-intentioned Aunt Agnes' chances of living till dessert.
Because we want you to enjoy your holiday, let's talk strategy. First and foremost, decide in advance if you'd prefer to boycott a family dinner. Despite whatever family guilt you may get for it, you can send whoever usually hosts a big flower basket, let them know it's nothing personal, and that you're just taking a personal time out this year.
If you decide you simply can't miss Thanksgiving dinner, you have a few options:
Call on either your spouse or a trusted family member who will be there as an ally. Have them help deflect questions, slip you some chocolate, or simply create a distraction involving the mashed potatoes if need be to help keep things off the topic of little ones.
Be armed with humor. Sometimes a gentle joke letting your family know that your uterus is not a topic you'd like to discuss while eating cranberries out of a can, especially when the turkey looks like it's about to be inseminated.
Have a list of other topics read to go. This one is HIGHLY recommended as it's not only helpful to have other subjects to pivot the conversation to, but it's a reminder that you are more than "TTC." Whether it's on the way to Thanksgiving or the day before, make a list of other things you've got going on in your life that you're proud and excited about. It could be something about your job, an upcoming trip, you're buying a house, you're getting a new pet, you have a new car or you just read a book that you are dying to talk about. Have that list ready to go in your head so you can find moments to bring them up that make sense.
Fire a warning shot. Fertility issues are an emotional, sensitive topic. This is why it might not be a bad idea to let family know ahead of time that you'd prefer no mention of it. Or, enlist the host or caring guest to be the one to make people aware that childbearing is off topic this year.
Be honest and educate. Only if you feel comfortable, there's nothing wrong when people ask you why you haven't had children yet, to just tell them the truth. One in eight struggle with infertility issues, you are one of them, you'd rather not talk about it and respectfully, they may want to not ask these questions as it could hurt someone's feelings. To take that moment to teach them (in the nicest way possible over pumpkin pie) that not everyone has an easy time of it may help the next person this unaware person would have asked.
Get support from the infertility community. You are very much not alone. Whether it's a local infertility support group or an online community you've connected with, feel free to either ask for their strategies to surviving the holidays or any comebacks they have used to shut that conversation down in a way that still keeps you on your family's list to buy a holiday present for!
Don't forget to ask to ask your personal, but anonymous questions on the FertilityAnswers App!
Jennifer "Jay" Palumbo is the Chief Executive Officer at Wonder Woman Writer, LLC, Freelance Writer & avid Women's Health Advocate. Her blog, "The 2 Week Wait" was awarded the Hope Award for Best Blog from Resolve: The National Infertility Association and was also named the "Best IVF Blog" by Egg Donation Friends. Her articles have been featured in Time magazine, Huffington Post, and ScaryMommy. As an infertility subject matter expert, she has been interviewed on news outlets such as CNN, NPR, FOX, NBC and BBC America, and was featured in the documentary, "Vegas Baby."