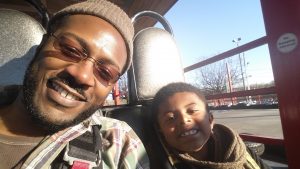 By Brad Wilson, PhD
I was a third-year medical student at the beginning of the OB/GYN rotation when I first had the idea of delivering my son. I told my wife about the idea, then we talked about it with our OB/GYN. Our doctor was very supportive of the idea as many dads are reluctant to even be in the room let alone deliver their own child.
I had a renewed energy and soaked up every piece of information in my rotation like a sponge. My wife's pregnancy was relatively uneventful until the middle of the third trimester when she developed preeclampsia. We decided to induce labor in late December, concerned about the long-term effects of her condition.
The morning of the induction, baby bag in tow, we headed to the hospital anxious to welcome meet our son for the first time. During the drive, I was reviewing the stages of labor in my head and all of the potential complications.
After we arrived and settled into the room in the labor and delivery suite, the process got underway. Anesthesia was administered and a few hours later, I delivered my son under the supervision of our fantastic OB/GYN physician.
It blows my mind to think that this was over 10 years ago. I remember it like it was yesterday.