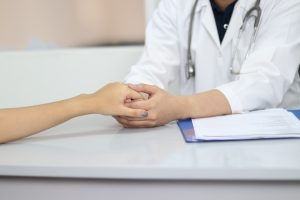 Deciding you need an infertility specialist is a very powerful step, which isn't easy to make. We've been there and we feel you! The professional that was a good fit for your best friend, sister, or dentist may not be the right one for you.
Here are some things to ask consider that will help you streamline your journey towards finding the right specialist and hopefully, towards becoming a parent:
Do you feel heard? You've made the call and set up an initial consultation appointment. Was everyone who touched you empathetic and willing to listen to your concerns? From the receptionist to the reproductive endocrinologist who will be in charge of your care, you should feel valued, understood and respected. I picked my first REI based on how empathetic the receptionist was when she found out I had cancer. She treated me like I was the only person who mattered that day. I will never forget that experience. And ultimately, I received the same treatment from my doctor.
What is the clinic's track record like? Make sure you choose a reputable clinic by checking out patient reviews on line and doubling checking the number of years the doctor has been practicing. Ask about success rates in your age group among patients with the same diagnosis you have.
How far is the office from your home or work? Finding the doctor of your dreams is one thing. Being able to get there is another. When choosing the right specialist for you, make sure you can get to their office as often as you need to. In some instances, this may mean daily or almost-daily visits for a week or so while you prepare for medical treatments, such as in vitro fertilization. If location concerns feel like a stalemate, talk to the doctor about local labs or satellite offices situated closer to you, which might make the relationship work.
What financing options do you qualify for? Affording infertility treatments is a huge concern for most patients. You are so not alone here! Thoroughly research the laws in your state about infertility coverage, and understand the in's and out's of your health insurance plan. Talk to the financial office at the doctor's clinic and ask them to provide accurate and detailed costs that you can expect. If you're concerned that your out-of-pocket costs will be more than you can handle, ask for suggestions on how to pay for it, and feel free to reach out to your MedAnswer's Fertility Navigator for ideas.
Can't find the doctor of your dreams? We can help you there, too. Just reach out and let's talk about it. Here, you will always be heard.