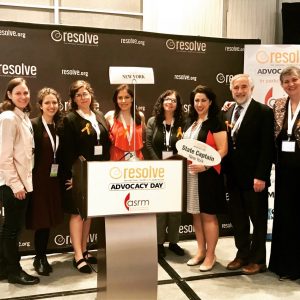 I became a fighter in the infertility wars when I was trying to conceive, back in 1993. My IVF twins will be 24 in a little over a month, and it's so hard to believe how fast the time has gone. I have worked in the family-building field this entire time by holding events and writing content geared towards educating people on their journey to parenthood. I've consoled women when they cried, listened to men choke back sobs while they spoke about their partner's miscarriage, and held court about the need for legislative change. There have been ups and downs over the years, accented by the sounds of life – babies cooing, grandparents singing gentle lullabies, and the voices of heartbroken, never-to-be parents talking about their life journeys. Quite a ride.
Despite my day-to-day immersion in the world of infertility, I was grateful, stoked and excited to participate in this year's Advocacy Day, co-produced by Resolve and ASRM. For me, it was like returning to the well. I felt replenished and revitalized, better able to continue fighting the good fight, because of the patients and professionals who attended with me – 240 in all. Brave souls who were willing to walk the halls of Congress and the Senate in support of what is nothing more than basic human rights – the ability to access the treatments needed to have a family without entering into bankruptcy.
This year's issues included a loud plea for research funding, common-sense legislation that would enable veterans to access IVF, fertility preservation services for individuals who have gone through cancer and other conditions, and an end to discrimination of hopeful LGBTQ parents and those of every religion who are ready, willing and able to adopt kids out of foster care. Should be an easy lift, right? Yeah, not so much.
Despite Advocacy Day's incredible highs, the fight is very far from won and more fighters are needed. You can help by reaching out to your legislators and making your voice heard. If you haven't joined the fight yet, here is your official invitation. Join me.