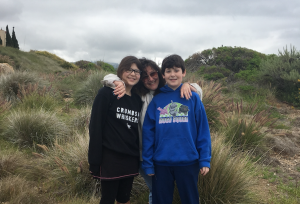 I remember so clearly when I was 31 years old and had just been made Vice President of Video Services at MCA Records. My boyfriend Peter was so proud of me. "Honey, it's so amazing, Today V.P., tomorrow C.E.O." And I sat there in the passenger seat and said, "Yeah, but how about M.O.M ?!?!"
That was the title I really wanted.
I remember very clearly, four years later at 35, the exam in my gyno's office when I asked her, "Shouldn't I be thinking about getting pregnant sometime soon?" And she assured me, wholeheartedly, that I had time. I could wait till 40, if I wanted to.
No longer with Peter, but feeling reassured by my doctor and admitting that there wasn't a man in my life at the time that I was hoping to have children with, I went on my merry way career-wise, traveling with girlfriends and buying adorable baby t-shirts at every destination. I had a baby drawer that was growing by the minute. All of my girlfriends giggled, but understood the baby drawer.
I remember so clearly, at 38, trying unsuccessfully for a year to get pregnant with the man I was with, who I believed would be a good father and partner. He thought it might help if we got married, so he proposed and we got married.
Still no baby.
I remember the 3 years we struggled to get pregnant, the IUIs, Health & Body courses at UCLA, acupuncture, Miori healers, meditation, a glass of red wine and weekend away to "just relax."
I remember the three IVFs, knowing in my heart that this 3rd one was probably the last try. I was tired, still working non-stop so we could afford the cost of this journey, not getting along all that well with my husband, which you come to learn is very common. The disappointments, the picking yourself up and trying again, watching as other friends seemed to get pregnant and start their families so easily.
It wasn't so easy for me, but I never gave up. And that third IVF? It was the one. My beautiful twins, my son & daughter, were born healthy and happy. They are 13 years old now and somehow, I don't remember all that clearly, the 3 years we struggled to have our children. Somehow, all I can remember is how grateful I am that I stuck with it and how fortunate I was to have a doctor early on in my attempts tell me:
"Some people have children because they want to carry on their name. Some people have children because they want to be parents. The good news is that today, there are options if you are going through a challenging time to realize your dream of having a child."
He was right. And I'm so glad I listened.