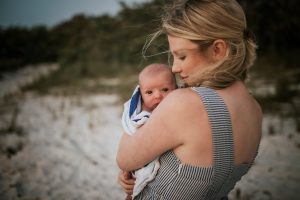 I remember the feeling… wanting to start trying but not knowing how long it would take, what it would mean for me, our relationship, and our future.
We had been married just over a year and we figured; why not see what happens? We aren't getting any younger and what if it takes six months or longer to get pregnant?
I remember the feeling… taking that first test, the uncertainty, the mix of emotions, and wondering – what if it was positive?
It was.
We felt all of the feelings. It was just our first month trying, my husband was in between jobs, (what were we thinking!!), but the joy, hope, and excitement was overwhelming. It was NYE and we had to cancel our plans because I wasn't ready to share the news, and I was sure it would be obvious if I skipped out on the wine. We went instead to a local department store and browsed through the baby isle for the first time thinking; this is really happening!
I remember the feeling… I had gone for a run that morning as I refused to give up my long runs just because I was pregnant. I came home and started having intense cramps. I saw I was bleeding and I didn't know what was happening, but I could barely get out of bed. We ended up going to the ER and had the most sincere, kind doctor tell me we were experiencing a chemical pregnancy. Luckily, I didn't need to have any additional procedures as everything happened naturally.
I was heartbroken.
I cried for a full day under the covers. I felt responsible even though everyone said I wasn't. I felt silly knowing I was only 5.5 weeks along, but we had called her Poppy. We had bought her a stuffed lamb for her crib. We had already talked about names and hopes and dreams and our future together as a family.
I remember it all, like it was yesterday. We still think of "Poppy" and the heartbreak of losing something we never really had. But most of all, I remember my loneliness.
Why wasn't I allowed to tell anyone I was pregnant, even if it was early along? Why would anyone want to be alone during such a vulnerable time? If this is so common, why did no one talk about it? Why wasn't this a thing? Why wasn't there a giant warning on pregnancy boxes that indicate what could happen if you test "too" early? I like to talk about this experience openly because I don't want anyone else to feel so alone; so confused.
My family and I had a moment of silence together to honor the loss, and even now, I still think of the little Poppy that could have been.
Today, my husband and I are blessed with two healthy toddlers beaming with life. I'm so grateful to work for a company that is raising awareness and providing support for all fertility challenges. Everyone has their own story about becoming a parent, and despite what social media tells us, it's never perfect or straightforward.