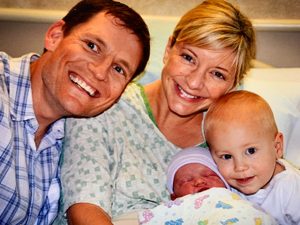 The beginning of our love story was quite a whirlwind. We met, fell in love, quickly engaged, married soon after- then we put the brakes on it for five years. We built a house, sold a house, moved out of the country – had our adventure and then returned to Texas where we started the talks of having kids.
When we decided we were ready to see what might happen, we were shocked when we got pregnant so quickly- the first month. We were giddy with excitement. We told my mom and sisters, one of whom was pregnant. The talks started at home about life with a baby. I scheduled our first appointment for 7 weeks. The nerves, the anticipation…and then the disappointment. My tests were positive, but my HCG levels weren't as high as they would have liked them. I was sent to the lab two days later trying to stay hopeful. The nurse called and said you will have some cramping and some bleeding over the next few days; this will end in a miscarriage. I was hosting a baby shower for my sister. It was a Sunday. I put on my best performance, entertained until the last guest left although the cramping had begun. I quickly went to my room, curled up in the fetal position and cried.
It was early in the process but that didn't take away from the excitement we had felt. We didn't talk. We felt sad. Everyone around us got pregnant so easily it seemed. The nurse told us to wait a month before I had a complete cycle before trying again.
So we did just that and quickly found ourselves in disbelief at another positive pregnancy test. We weren't going to get our hopes up this time, though it was hard not to. We scheduled our first appointment, but something happened. I was at work and started bleeding. I felt certain we were having another miscarriage. My mom happened to be in town and met me at the doctor's office. I was sick to my stomach and very teary. They sent me to have an ultrasound…and there they found a heartbeat. There was a little living being inside of me. I did not miscarry. I was relieved and felt a little hope that it was okay to feel excited.
Until a few weeks later, I started bleeding again. The panic, the disappointment and the fear kicked in. They sent me in for more ultrasounds and there it was. Healthy little baby. Doing fine just keeping me on my toes.
And then again- I bled at 14 and 16 weeks and more at 20 weeks. I spent more time in anguish and fear that I was going to lose this baby. They determined I had a Subchorionic hemorrhage and were able to see that I had one remaining blood clot that would pass. My doctor said, "sometimes women bleed". I had not heard of this before. Ever. No one talks about bleeding throughout your pregnancy and the constant fear of miscarriage. Because of the bleeding they put me on limited activities around 20 weeks and said to take it easy and no lifting.
At my 25-week checkup, right after Christmas, I was feeling great. The bleeding had stopped. I could feel the baby constantly kicking and flipping, so I thought. We went in for an ultrasound and watched the doctor's facial expression change. He turned to us and said we needed to be admitted to the hospital. My cervix was too short. If it got any shorter the baby would come. We couldn't risk not being admitted. We were in shock. What did that mean? I had 15 more weeks to go. We followed the instructions; I was admitted into antepartum, I was given progesterone and steroids. I was put on monitors 24-7. Those sweet baby kicks were actually contractions I had been having for weeks. I spent two weeks in antepartum- a few different rooms- some light and lively, one depressing without access to see out the window. We were allowed to go home after 2 weeks and then continued on 10 more weeks of bedrest. I was allowed to shower and travel to my weekly appointments. We followed the protocol- we were determined to make him stay in as long as possible and ultimately, we did. At 37 weeks and 1 day, shortly after my husband left for work, my water broke. That evening, just before the change in nurses- our sweet boy arrived. True to his nature, he has always been excited about life, getting up early, being the fastest, keeping us on our toes.
Life was starting to settle and then about 2 months before his first birthday, I was surprised with some nausea at work. Something was off… there's no way, I thought to myself. My doctor had told me my body needed at least a year to heal and we mentally hadn't recovered from the previous 18 months. But…to our surprise, we were pregnant! I was put back on the high-risk protocol- however around 16 weeks- we realized I was having a much different pregnancy. Everything was normal. No miscarriage, no bleeding, no bedrest. We were blessed with another baby boy- this time making it to almost 39 weeks.
Now they are 7 and 5.5 and the first few years feel a bit like a blur. I truly believe that babies are miracles. From our own experiences to watching our friends struggle, to hearing stories of joy and sadness to seeing sweet bundles big and tiny- it's for all of these reasons that I want to help others in their journey to parenthood.